The conversations I've been having lately have been timely, to say the least. Men and women in various stages of their careers have shared a common feeling of something's missing. Jobs are feeling like just that – a job.
Some have described it as a feeling of unfulfillment, a lack of personal enjoyment and many have no idea of how to move from the mundaneness of going through the motions of life to living with more clarity and meaning.
This may sound typical to you, yet it doesn't surprise me many are struggling with the search for more fulfillment. In my world, it usually shows up in the professional arena and often has a way of creeping into the personal one as well.
Our world has drastically changed over the nearly 2 years of going through a pandemic. Many have called this time The Great Awakening in a time of The Great Resignation, I've also heard of The Great Invention, but I see this as a time of Great Discovery.
In April of 2021, 4 million Americans quit their jobs according to the U.S. Bureau of Labor Stats with resignations staying at an all time high in July with 10 million job openings. 
This doesn't include the impact the job market had on women during the pandemic with many scaling back in their careers and with others leaving altogether.
The search for fulfillment isn't new.
The difference with this moment in history is the temporary fixes we've used in the past as long-term solutions don't work anymore.  
What may have worked at one point or what may have been the answer for so long is no longer the cure for real, sustainable change. It's no longer what fills you up from the inside out. 
This is a time to re-discover what's truly important in life and a time for self-discovery.
A time to get reacquainted with your Soul – yes, your Soul, to find a deeper meaning behind the feelings of boredom, lacklustre and joy sucking that is the reality of some work and lives. 
You're not meant to travel through life just going through the motions, living someone else's narrative, following a set of societal rules (that you disagree with), paying bills to survive and doing it all over again the next day.
Your life is meant to be 

an experience, not an experiment. Don't you want to make it the

best

experience you can?
Work, in whatever way that looks like in your world is meant to be enjoyed. I don't subscribe to the notion that most don't like their job or it's normal to have an unfulfilling career. If that's you, then it's time to re-evaluate and make a change.
You don't have to compromise one aspect of your life by self-sacrificing the very things that are important to you and yet so many find themselves in this state day in and day out. An ongoing sacrifice leaves this feeling of overall discontentment. 
This time in our world right now, many are experiencing the feeling of unfulfillment more than ever before.
Sadly, you may think your answer lies in the next job in a new company, a career industry change, a title change, starting another business (for the 5th time), moving to a new city or finding a new relationship.
Eventually, what I've seen happen is you find yourself meeting the familiar feeling of unfulfillment and lack of meaning 6 months later, only to realize the job, relationship or move wasn't the answer.
You're back at square one again. Here's the answer. The part of you that's screaming for your attention are the parts of you that have been trying to tell you to pay attention and re-evaluate for some time.
If you're so focused on the external solutions, you're missing the biggest one that's right under your nose – the voice inside. Yes, that is a solution.
The inner voyage that often begs of your time, devotion and commitment is where your deepest desires rest and hold answers that lead you on a far more fulfilling way of living.
Waiting for you to discover its existence with heart and patience.
Take it from someone who was in this space many years ago feeling completely unfulfilled by a corporate career and a general dissatisfaction with life. It wasn't until I decided to refocus my energy to a path that took me inwards things began to shift.
It's where I fell in love with the relationship to self and all things personal and spiritual development.
This isn't cliché or a dampened answer to your prayers. You're far too important of an investment for any deep level of work into self to be considered fluff or whatever label you may use to call the inner work.
This is about getting reacquainted with yourself in a deeper way that allows you to draw on your own innate wisdom and discover desires that have been left ignored and abandoned. 
Don't worry; it happens to the best of us. But you always have a choice to do things differently. One where you don't have to abandon yourself and what's important to you and bring a hell of a lot more, heart and soul, to your business or career and life.
The inward journey comes with practice, time and development with no end destination.  
It's… 
An unlearning and learning of yourself. 
A letting go and letting in. 
A releasing and embracing. 
Acceptance of where you are and a vision for who you want to become and 
A taking of radical responsibility for your life.
Your action here is to use this time of great discovery to get really honest with yourself. In whatever areas of your life you're completely unsatisfied and know something's missing, instead of doing what your default action is (focusing on an external search), get quiet with yourself and tune inwards.
Ask yourself the big questions and see what comes up. 
What am I ignoring in my life that I know I need to pay attention to?
In order for me to feel more connected to my work or my relationships, what needs to be different?
What changes am I willing to make in order to bring more joy and satisfaction to my career or business?
You are your most important asset and relationship. There is no one person or thing more important than you. Time waits for no one and, the longer you put off or ignore the niggling feeling of discontentment whether in your professional or personal life, the longer you steal time from the life that's waiting for you to live.
With the pandemic changing the way we look at work in so many ways, what's one thing that's changed for you if anything, when it comes to your career or business? Maybe it's a new found perspective, lifestyle changes or something else that's different for you now. Let me know in the comments.
All my love
Lisa 
For more creative insights, check out the latest posts below: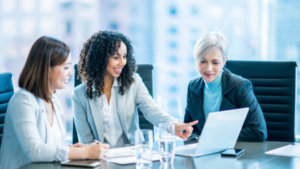 When it comes to career advancement, what are some of the factors your female talent is considering? It might be the position and scope of the role, how much it pays, and the leaders they'll be working with, yet ultimately, women want to know they'll be set up for success. We've heard a lot of talk about the importance
Read More »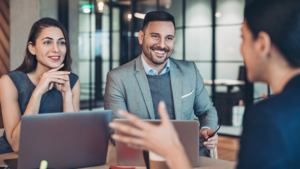 Have you struggled with visibility? The kind that garners the promotional opportunity you've been thinking about and know you deserve? That's the thing about getting noticed; you want to be seen and valued for your experience and skill set, and when you're not? You question yourself. In this hybrid world we live in; work environments have changed. Research has
Read More »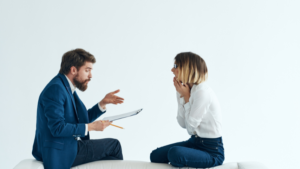 Have you ever had something happen at work, whether it was a meeting gone wrong or an exchange with a client you manage only to have it throw you off for the rest of the day? You wish you could get a handle and regulate your emotions, but all you can think of is what was said (or, in some
Read More »